>Kinesio taping is a common treatment used by physical therapists and chiropractors. It provides support, relieves pain, reduces swelling, and improves performance. This is a therapy commonly used by Dr. Jody England and Dr. Shad England at Urbandale Chiropractic.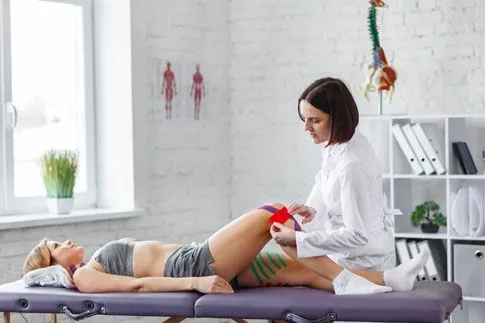 What Is Kinesio Tape?
Kinesio tape is made of cotton and nylon. It is very stretchy and mimics your skin's natural elasticity, so it does not affect your range of motion. This tape is water-resistant, can be used in the shower, and will not come off when you sweat while working out.
Kinesio Taping Promotes Healing
Kinesio taping can promote healing after an injury or surgery. These benefits include:
Creating space in the joints: Studies have shown that this tape is effective in creating space in the knee and shoulder joints. It does not create a very large space, but it creates enough space to reduce the risk of joint irritation, which is essential for healing.
Improving circulation: After an injury or surgery, swelling can occur, causing the healing process to take longer. The tape improves your circulation, which can reduce swelling and help you heal faster.
Additional Benefits of Kinesio Taping
Here are a few other issues where Kinesio taping can help with the healing process:
Treating injuries: This tape is often used in conjunction with other methods to reduce the pain and swelling after an injury or surgery.
Provide support to weak areas: This tape can provide additional support to the muscles and joints. It is very flexible, therefore, it will not affect how you move and still provides support.
Retrains the muscles: Kinesio taping can help if you have lost muscle function after surgery or an injury. During the healing process, the muscles function in an unhealthy way to compensate for the injury. Kinesio taping can retrain your muscles to function properly.
Helps stroke patients: This tape can help patients who have suffered a stroke and need to improve the way they walk.
Manage scarring: Studies have shown that this tape can reduce the appearance of scars that are caused by surgery. When the wound heals, the tape will make the scar less noticeable.
Prevent injury: This tape can prevent an injury. It is commonly used on marathon runners to keep their muscles awake, reminding them to keep working. It can also improve a runner's performance.
Get Kinesio Taping and More at Urbandale Chiropractic
If you have recently received surgery or suffered an injury, schedule an appointment at Urbandale Chiropractic in Urbandale, IA. Our chiropractors use Kinesio taping to relieve pain and promote faster healing. Call us today at (515) 278-4594 to schedule an appointment.